It's Wednesday, ya'll (I was tempted to again use the Hump Day commercial as an opening, but I'll refrain...just for this week).
So. This is my last summer edition of What I Ate Wednesday. I'm pretending that I'm super excited about returning to school, but truthfully, it doesn't even feel real yet. My brain logically knows it's a mere 5 days away, yet I feel like I have a good month to go.
Sigh.
But on a positive note, I've had a lot of yummy eats zis week! (Thanks a bunch,
Jenn!
)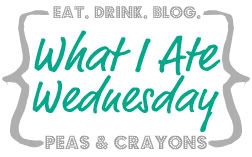 ~~~~~~~~~~~~~~~~~~~~~~~~~~~~~~~~~~~~~~~~~~~~~~~~~~~~~~~~~~~~~~~~~~~~~
Breakfasts
We were in charge of the volunteers' food at church this week, and we came home with a bunch of leftover food (apparently people prefer bagels and donuts to muffins), including a few whole wheat bagels.
Breakfast: the bottom aka thicker, chewier half of a bagel, an organic white nectarine, half a banana, and lots of Sunbuttah. Coffee w/ vanilla almond milk on the side to wake me up.
I feel like I shouldn't even post this breakfast, but I'm going to anyways. I am the QUEEN of kitchen disasters, and this was a sadly failed attempt at recreating a version of vegan baked pancake that was previously successful.
I think subbing the white nectarine for the banana did it in (hardy har har). It came out perfectly on the top and bottom, but the middle was still raw. I then nuked it in the microwave to save the top from burning, which made it sink like a deflated souffle. At least it cooked through and was tasty.
Lunches
Mom, Reibs, and I went out and picked up lunch from Atlanta Bread Co. and it was between the chicken + pesto panini and Salsa Fresca Salmon Salad for me. Clearly, the salad won. And it was delicious! Grilled salmon, black bean and corn salad, lots of greens, and a really yummy dressing that I can't remember the name of. It was kind of honey mustard-y tasting with a hint of spice.
Dinners
I have new product love! Whilst at Trader Joe's I picked up Thai Vegetable Gyoza - basically potstickers.
I steamed mine, which I honestly wouldn't suggest. At my friend's house (where I discovered them), we pan-fried them and it gave them a crunchy exterior. The texture of my potstickers was like a chewy noodle.
Be forewarned...have a pack of gum at your side because these babies are little garlic bombs. Maybe that's why they're so tasty?!
Snacks
You're probably getting tired of this picture, and I apologize. I'm just really bad at photographing my snacks! But I almost always have a bowl of yogurt, half a banana, and a nut butter before bed. It's the bomb dot com.
Happy Hump DAAAYY!