Gooood morning, muffins!
I'm posting WIAW a little later than usual, but that's because I settle for nothing less than absolute perfection for my lovelies (okay, I actually downloaded/doctored my pictures a little late, but you all know I still love yoouu). I just tend to take a bunch of pics of my meals because I can never decide which one is the prettiest or the tastiest - that's why you get to peruse through quite a few every Wednesday. :)
I think my breakfast this morning got me in a really good (meaning: chatty) mood. Spoiler alert! It was awesome. Soooo I might as well show you what's been up with my eats lately.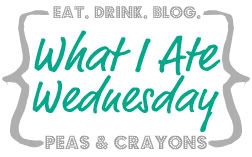 Muchas gracias, Jenn!
Breakfasts
This was eaten Monday morning - french toast with the last of my homemade artisan bread. Homemade/fresh loaf always makes better french toast than store-bought sliced bread!!
Warm, cinnamony apples on the side, and a slowly melting dollop of peanut butter.
It was trying to escape! Silly peanuts.
My good-mood food: nectarine and cherry baked oats. This is the best batch of baked oats that I've made thus far!!
It was so much more flavorful and moist than my other versions of baked oats I've made. I thought pumpkin baked oats might be my favorite, but this one takes the oatmeal cake!
A big 'ole slice of scrumptious baked oats, topped with slightly melted Barney Butter and a handful of plump, perfectly ripe chopped cherries = that absolute perfection I was talking about. Recipe will be up in the near future!
While I recover from my current baked oats infatuation, here's a picture of el cafe I sipped on this morning:
Lunch
Tuna salad in a whole wheat tortilla, yummy in my tummy. I chopped up a couple of carrots and a pickle to add in, and sliced a red bell pepper for some crunchy crunch (I'm secretly a poet).
Along with the wrap, I had leftover guac from a Moe's dinner run, baby carrots x2, a *practically flavorless* Gala apple, and salsa.
Dinner
Yay for Mom getting back in the kitchen! She's finally feeling close to her old self, but is still a little coughy. (<---It's a word.) Other than that, she's recovered well!
I tried so hard to get a better picture of this dinner - it looks like I had my flash on, but it was flash-free. Darn artificial light. Zis was a simple bowl of brown rice, zucchini, squash, and chicken stir fry, flavored with olive oil, salt, peppah, and greek yogurt. I sprinkled on some red pepper flakes because I like all my savory foods with a spicy bite.
Thanks Ma!
Snacks
A bowl of pomegranate Oikos greek yogurt, spoonful of peanut butter, and half a banana sprinkled with cinnamon. I eat some version of this almost every night before bed, this is just the first time I've photographed it in a while (if at all).
Happy Wednesday, my loves!