Guess what day it is??!!
It's hump day! I know for a fact I'm not the only person who appreciates that commercial. And hump day means it's WIAW! Thanks
Jenn!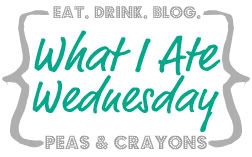 ~~~~~~~~~~~~~~~~~~~~~~~~~~~~~~~~~~~~~~~~~~~~~~~~~~~~~~~~~~~~~~~~~~~~~
Breakfasts
I mentioned this breakfast on Monday, but I'm mentioning it again because it was gosh darn delicious.
A semi-parfait of plain 2% greek yogurt, a supremely ripe plum, and Bear Naked Granola. The plum was a little gem of sweet yuminess!
I really just can't get enough summer fruit, but nectarines...oh my. I'm eating as many as possible before they go out of season (which will be a sad day in our household).
This was a delicious stack of waffles! I layered waffle, nectarine slices, waffle, nectarine slices, and topped it with Barney Butter and sprinkled cinnamon. I then heated it up in the microwave to get the waffles chewy (I don't care for crunchy waffles), and the nectarines in the middle got all melty and gooey like a compote!
Lunches
Hummus+tomato+cucumber wrap, carrots and snow peas, a nectarine, and a Diet Coke I smuggled from the church's cooler for volunteers. :) Don't worry, I was volunteering!
Same plate! Turkey and hummus sandwich, snow peas, carrots, and cantaloupe.
Dinners
I made this dinner the other night and Dad proclaimed that "This is the best dinner I've had since the last time you made it!" Thank, Daddy. ;)
I pan-seared chicken and finished it off in the oven, and served it with balsamic bell peppers over brown rice. It was indeed a great dinner!
This was my after-hike-I'm-so-hungry-need-something-fast dinner. Whole wheat spaghetti, homemade tomato-basil sauce, a small squash, and ricotta cheese.
Snacks
The hot weather has put me in a smoothie-mood. Smoothies are where it's at!
I had been planning a banana bread muffin + PB snack, but after 61 minutes on the stationary bike (I timed it) and lots of sweat, I couldn't quit thinking about the frozen strawberries in the freezer we had. So I made a strawberries 'n cream protein smoothie (1 cup milk, 1 cup strawberries, protein powder, pinch of salt), and topped it with granola.
I think this green gem was after an evening strength workout - 1 cup almond milk, 1 banana, 1.5 tbsp peanut butter, splash of vanilla, and topped with granola.
By the way, I need to shout out to
Aimee
, who designed my blog for me! I really needed something different, and she did just what I was picturing! Also, she was an angel to work with - I highly recommend her! I've thanked her like 50 times, but...thanks Aimee!! :)