Hey peeps!
I'm writing this really really quickly because a) I'm forcing myself
not
to take a nap. I will not nap I will not nap!*, and b) I am supah busy today, but I want to get at least one post up this week!! (
Note: I wrote this on Tuesday)
*
My sleeping schedule has been terrible and I am really trying to sleep more at night, and less during the day. I am exhausted all day but can barely get myself tired in bed!
This week has not been the greatest so far and I am so incredibly tempted to vent, but ain't none of you got time for that. I
will
be positive, DANGIT! I AM A HAPPY CAMPER!
Whew, you see? Self-pep-talks work.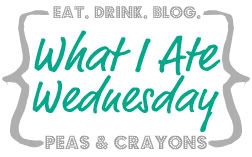 Many thanks to the amazing Jenn!
In keeping with the positivity (<--my computer doesn't think that's a word. Is it?!), I am going to show you my favorites of this week!!
Breakfasts:
Green smoothie: almond milk, mango, and lots o' spinach
Peach Blueberry Oatmeal (made w/ almond milk and chia seeds), topped with vanilla bean Greek yogurt, and Sunbutter
Lunches:
Turkey+avocado+sundried tomatoes+spinach whole wheat wrap, apple+cinnamon, bell peppers, salsa for dipping
Bestest salad! Spinach, strawberries, chickpeas, avocado, homemade BBQ vinaigrette, whole wheat pita, and an apple
Dinners:
Fish tacos: corn tortillas, grilled tilapia, stir-fried veggies, mango, and salsa
Cinco de Mayo meal! Fiesta loaded sweet potato - black beans, corn, salsa, Greek yogurt, plus side salad with lemon vinaigrette
Snacks:
Caramel Nut Brownie Lunabar
Banana+Justin's Chocolate Hazelnut Butter
PJ&J smoothie - almond milk, frozen strawberries, peanut butter, and spinach
Random:
Summery feet=sandals and nailpolish
Thank you to Alison for opening my eyes about this deliciousness!!
Okay, I haven't tried Kombucha yet, but am seriously considering it! I've been more and more interested in "gut health," and especially after reading this post and this post, I'm ready to give it a go!
I hope you all have a wonderful Wednesday, and for those of you taking them, good luck on all of your exams/midterms/finals/AP Exams!!