Hiiiiii!!!!!!!!!!!!!!! Guess what, I'm typing this super duper fast cuz I forgot to write it up yesterday! Yay me.
Speaking of yesterday, I've been wanting to do a "Day in the Life" post for a while now. So yesterday, I decided that I was finally going to do it. Only, I forgot to put it up, so I just converged it with a WIAW.
Cuz let's be honest, I mainly took pics of my food. :)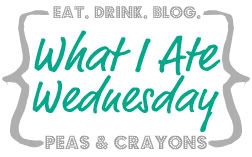 Thanks to the fantabulous Jenn!!
Here's where the monotony begins. I had no homework, and I have no extracurricular activities at the moment. Had I had homework or something else to do, it would be a bit different.
to this:
Sit down and watch 15 minutes of the Big Bang Theory with Mom, and head to brush my teeth and get ready for bed.
What an exciting life, I lead, eh? But I love it.
Have a wonderful evening, darlings!