I've gotten a bit of a late start, because with school work and the bro's birthday celebration, I lost track of time!! But hey, better late than never, right?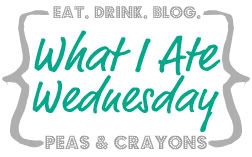 Let's hop right to it! (Thanks
Jenn
!)
Breakfast
This is a somewhat crumbled oatmeal pancake, apple pie style. (Just Kath's recipe w/
applesauce). De-lic-ious.
On-the-go one morning: plain greek yogurt + honey + banana, topped w/ blueberries, Sunbutter, and granolaaaaa. Eaten app. 4 minutes - gotta love those 7:30 study-sessions.
Lunch
This is what your pic looks like when you remember you have no lunch pics yet! - tuna salad, toasted english muffin w/ smashed avocado on the left slice -( just being thorough!), carrots+peppers, and an apple w/ a chunk sliced out of it and in mah belly!
Dinner
The musical fruit in soup form that I amped up with sauteed onions, carrots, tomatoes, spinach, and a dollop of greek yogurt. On the side was an unpictured homemade dinner roll that was divine.
Snacks
This bar had an impressive ingredient list (dried raspberries, soynuts, gluten-free rolled oats, almonds, coconut, almond butter, among other things...) but I thought it tasted gross! So disappointing - not sure if it was the soy protein isolate or just that particular flavor, but it was just wonky-tasting in my mouth.