Heya friends!! Sorry to be getting this post up so late, but I had a brain fart and completely forgot to have it ready to go last night.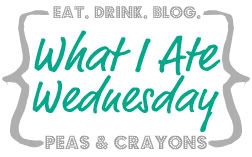 Okay, I was actually watching another episode of
Beauty and the Beast
during the time I was
supposed
to be writing it. Sawwy.
It was back to school for me today. Really we should have gone yesterday, because the ice we were expecting never happened - it was actually
gorgeous
outside (well, minus the temps). Truth be told, I was getting a little stir-crazy in my house!!
Today's post is a little bit of everything - random thoughts, some recaps of yesterday, and a few meals thrown in there. Yep, they're all from my Instagram. You don't mind?!
Okay, you know how I mentioned how much I hate the treadmill? Well, yesterday I returned to the treadmill, but this time I had an interval workout and a full disc of FRIENDS with me. Guess what?! The time flew by!! I was done with 35 minutes in no time (I think I actually got 40-45 mins if we're being technical here), and then ended with a full-body workout.
J came and jumped on the mini trampoline, messed around with the weights, and was my personal trainer during my strength workout! He was ready to go home, so I involved him by suggesting he call out my reps. It was actually really helpful!
Okay, onto the food. It's just a mish-mosh of whatever I found on my phone so here ya go:
Banana Oat Pancakes, slices of banana, peanut butter, and coffeeeee.
Scrambled eggs, spinach, and a Laughing Cow Cheese on top of brown rice, topped with salsa, peanuts, Greek yogurt, and a side of tangerine.
Deeelliccious protein mug cake topped with peanut butter, Greek yogurt, and sprinkled with cinnamon.
Then this happened:
I knocked it off the counter....
somehow,
I don't even know....and it literally split in two. Can you see the little shard of porcelain on the side?! Luckily, it was just that one chunk and I transferred it to a different container.
Greek yogurt, chia seeds, a diced pear, and Kashi Go Lean Crunch cereal, topped with PB2. I'm using real nut butter next time, because I didn't like the taste of the PB2 with the yogurt. Don't get me wrong, it's pretty close to peanut butter and tastes good, but it just isn't the real thing. You know?
Ugh, I needed some caffeine and chocolate after school today. I enjoyed every bite (and sip!) of this snack.
Clearly, veggies/lunch/dinner were not on the forefront of my mind this week. You're just gonna have to take my word for it that I actually eat savory things. ;)
Have an awesome day and stay warm my friends!!