Sooooo you could say I went a
bit
overboard with all of my
Instagram
updates this week.
Breakfast. Snack. Workout. Snack. Snack. You betcha I whipped out my phone to snap a pic! I also have some pics that
need
to make it off of my camera, but I don't want to delete them.
What can I say?! Food is fun to look at. You may have also noticed that I've made it my personal mission to eat as many of the Christmas leftovers as possible. This may or may not have to do with the fact that my mother won't go to Trader Joe's until we finish them up.
Okay, okay, leftovers are pretty delicious too. So since I took so many freaking pictures of everything, I didn't give myself an excuse to skip this week's WIAW. Expect lots of turkey, pumpkin, and oats in your immediate future.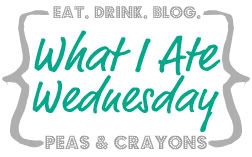 Breakfasts
Travel breakfast - apple, oatmeal, and peanut butter. Classic.
The breakfast I'll never get tired of: Chai Spiced Pear Overnight Oats.
And of course, the best.
Lunches
Scrambled eggs and spinach, toasted English muffin, cucumber, salsa, sliced apple, and candied pecans.
Favorite salad of the week: romaine lettuce (Soooo much lettuce/greens to use up!! Challenge accepted!), cucumber, sliced turkey, cranberries, and candied pecans. Side of an apple and unpictured dinner roll.
Another leftovers salad: lettuce, microwaved/cubed sweet potato, turkey, dried cranberries, chopped almonds, and 2 clementines on the side.
Dinners:
Oh look more turkey!!!!!!!!!!!!!!!!!!!!!!!!!!! This time in the form of a burger and side salad.
Leftover turkey burger over brown rice and stir-fried veggies. Yums.
Snacks:
Every night.
Larabars, of course.
I think it's safe to say I may just turn into a turkey. A peanut butter-eating turkey. I'm strangely okay with that? As long as I can still have my PB.
Have a happy and healthy New Year's Day!!!!