Ahhhhhhh, the snow.
Look at it aaaaaalllllll
Here's a peek at my eats for the past few days!!! Breakfasts have gotten a little more adventurous, as my lunches/dinners are still same-old-same-old 15 minutes or less. Eh what can ya do.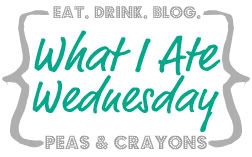 Breakfasts
You guys, this breakfast. So. Freaking. Good. It's inspired by
Ashley's
buckwheat bakes, but alas, I have no buckwheat. So I improvised and made my own version! I want to make one without chia seeds because I'm stingy with them.....
Chai Spiced Pear Steel Cut Egg White Oats (now that's a mouthful!!!), Sunbutter, coffee.
Easy Fluffy Vegan Pancakes
that are the bomb dot com, diced apples, Sunbutter, and a sprinkle of cinnamon.
A very non-traditional-Jessica breakfast: chia pudding with greek yogurt stirred in, sliced banana, and a crumbled pumpkin dark chocolate muffin [vegan]. So good!
Brown rice, bell pepper, spinach, shredded chicken, salsa, and guacamoleeeee.
Turkey and spinach in a whole wheat wrap, baby carrot and sugar snap peas, guac, and an apple.
Dinners
T
his may or may not be a repeat dinner?? Diced sweet potato, broccoli, roasted chicken, and ketchup for flava.
Brown rice, stir-fried squash and zucchini in tomato sauce, topped with Greek yogurt for protein. Bring on the veggies - this was my favorite dinner of the week!!
Brown rice (I made a huuuuugggeeee batch earlier in the week), roasted chicken, and sauteed sugar-snap peas.
Snacks
The Larabar obsession shall never cease. This is my favorite flavor eevveerrr.
Yogurt mess!! Plain 2% Fage, banana slices, Sunbutter, cinnamon, and honey.
Brownie pops because yes.
Well, I'm off to play in the snow! Stay warm and have an amazing day!!