Mmmmmm. Hello there, gorgeous waffles.
Yup. Look at that peanut buttery goodness. They look beautiful, right?! And they were pretty dang delicious.
Feast your eyes on this lovely doughy mess:
Yeah, the two (and a half) waffles that made it onto my plate were only out of four that made it out of the waffle iron in one piece. I made about 7 waffles.
The reason being, is this was my first time making these specific waffles - they were made from oats and a banana and vegan sooooo I kind of expected some sort of mess.
Glamorous, right?
You betcha I dripped some on the table....
These are the actual finished product:
More peanut butter, cinnamon, and honey. Yeah, they still look pretty darn delicious, but tell me - can you really say these actually look like waffles? I mean they are drenched in peanut butter.
They've been microwaved like 5 times at this point because they sat while I cleaned up a bit, made my coffee, and took the pictures.
As if that's not enough deception (I'm sorry my loves!), I actually ate these in the living room. Sitting on the floor.
With a cat sitting next to me....
Aaanndd watching The Big Bang Theory.
So. You think Instagram pics are glamorous?
Whenever you find yourself wishing your food could look like so-and-so's, or you could be as pretty as that girl, just stop! It's not the whole story.
(But the waffles really were delicious.)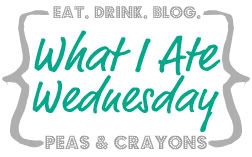 Thanks for hosting, Jenn!